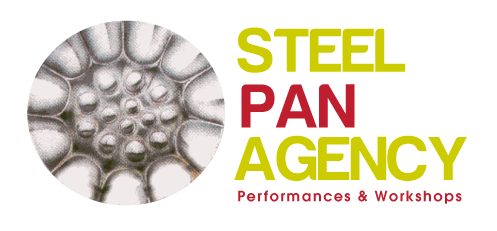 "The children were inspired. Your musicians were creative, gave the children confidence and were very entertaining"
Mrs H Lonergan, from Our Lady of Visitation
Steel Pan Agency regularly does performances and workshops at weddings, schools, corporate and private functions, community events and parties. Our performances are suited as quite background music or the main music entertainment for your event. Our steelband performances give you a touch of the Caribbean performing the best in Calypso, Reggae and Popular Music.
All our musicians have been performing at major events for over 10-years. We work with many small businesses, local and grassroot charities and directly with schools. Steel Pan Agency has provided services for a long list of prestigious clients; British Airways, John Lewis, YouTube, Channel 4, Lords Cricket Ground, Silverstone Grand Prix, Great Ormond Street Hospital, The Commonwealth, Mencap UK, Age UK to name a small few.
​
​
"The steelpan is a perfect instrument, as the basic skills are easy to learn and playing the instrument does not require any previous musical experience. It is possible for a group with any level of musical experience to accomplish a simple melody within a short period of time".
​
Steelpan workshops, presentations and school assemblies are a great way to teach people of all ages about the only new instrument to be invented in the last century which originates from the twin islands of Trinidad & Tobago. It is also a proven fact that steelpan music enhances the senses of various disabilities and can be therapeutic for various illnesses including mental health. Through our interactive workshops, people of all ages will have an opportunity to actually play a steel procession instrument. We have developed these educational workshops into themed parties, drop-in activities at events and team bonding.
​
All workshops include a CRB qualified tutor(s), an introduction about the history and range of steelpans with the opportunity to listen and play the instruments.