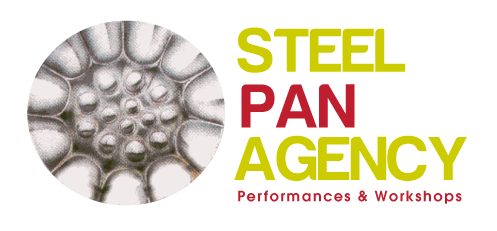 Enriching School Workshops with Steel Pans
Introduce students to the captivating world of steel pans through our engaging workshops. With their accessible nature, steel pans are the perfect instruments for all ages and abilities, making musical exploration a joyful experience. Regardless of musical backgrounds, students quickly grasp basic skills and achieve the satisfaction of playing a simple melody.
​
Our workshops offer a holistic learning experience. Students not only gain hands-on exposure to playing steel pans but also delve into the history of these instruments from the vibrant Caribbean culture. They develop crucial musical skills, including rhythm, improvisation, and teamwork, while honing their listening abilities. The collaborative nature of ensemble playing fosters a sense of unity and shared accomplishment.
​
In addition, our workshops can boost confidence as students have the option to perform before an audience. This opportunity nurtures stage presence and empowers students to express themselves artistically. By blending education and entertainment, our workshops offer a unique and enriching experience that resonates long after the last note is played.
"It was the school's first experience of steel pan and it was brilliant. The two musicians exceeded expectation. All staff and children enjoyed the performance. Workshops were thoroughly enjoyed by all ages, very positive responses from everyone"
P. Byles, Dr Triplett's C.E. Primary School
Immersive Workshops for Engaging Learning
Our engaging full-day workshops are designed to spark curiosity and captivate students' imagination. The day begins with an inspiring morning assembly performance, setting the stage for a series of interactive workshops tailored to groups of 15-30 pupils per session. The duration of each workshop, ranging from 20 minutes to 1 hour, is customised to accommodate the total number of participants, ensuring an optimal learning experience.
​
Throughout the day, students are immersed in the captivating history of steel pans. An interactive performance assembly further enhances their understanding of this unique musical tradition. In our workshops, each student is provided with a personal steel pan, enabling them to learn a melody or rhythmic tune. This hands-on approach cultivates musical aptitude, rhythmic skills and teamwork while fostering a deep appreciation for the art of steel pan music.
​
Our comprehensive Full Package goes beyond the steel pan, encompassing Djembe Drumming and Tamboo Bamboo workshops. Exploring the lineage of steel pan music, students trace its origins from the 18th-century Djembe Drums to the formation of steel drums in the 1930s. This holistic journey provides students with a complete immersion into the world of steel pan music.
​
Through our workshops, students not only gain musical skills but also gain insights into history, culture and collaboration, leaving them with an unforgettable and enriching educational experience.
"Thank you both for such a fantastic day. The children have all been buzzing about what a fun experience they had with you and so many staff have said that you really lifted their spirits at the end of a busy term! I really appreciate you adjusting you usual timings to accomodate our timetable, thank you. We look forward to seeing you again in the future"
Shona Anelay, St Edmunds School Trust LTD
​
Educational Assemblies & Energetic Performances
Our steel pan assemblies offer an exciting and informative way to introduce students of all ages to the captivating world of steel pans – the only new instrument to emerge in the last century, originating from Trinidad & Tobago. Through these engaging sessions, students discover the history and range of the steelband orchestra, accompanied by live performances of popular songs and traditional Caribbean melodies.
​
Beyond assemblies, our steelband performances are a dynamic addition to summer fairs and various school events, infusing them with a lively atmosphere. With a repertoire spanning calypso, reggae and popular hits, our performances create an unforgettable musical experience.
​
Our steelbands are equipped to deliver either a 90-minute set or two 45-minute sets within a 3-hour time frame, providing flexibility to suit your event's schedule. Assemblies typically consist of either three 30-minute sessions or two 45-minute sessions. To enhance the experience, our performances can also be tailored for parents during drop-off or pick-up times, creating memorable moments in the school playground.
"It was amazing! The kids really enjoyed themselves and are already asking when they can do it again. All the guys were great and managed to get all the kids to participate, engage fully and actually make some pleasant sounds!"
Vicki Foreman, Lark Hall Primary School
" We carried out a pupil survey and 98% of the children loved the whole experience and would like you to come back"
Joe Parkes, Camrose Primary School
2-hour steel pan workshops
Up to 60 pupils
Interactive steelband performance assembly
Workshops with 15-30 pupils per session
Starting from £340
​
All-day steel pan workshops
Up to 270 pupils
20-minutes interactive Performance assembly
Workshops with 15-30 pupils per session
Starting from £540
​
Assemblies & Performances
Starting from £320