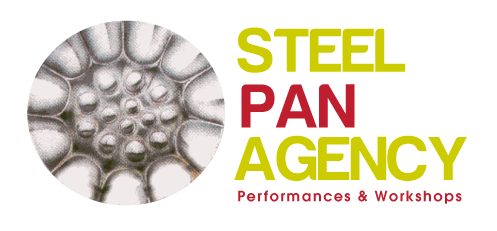 "It was the school's first experience of steel pan and it was brilliant. The two musicians exceeded expectation. All staff and children enjoyed the performance. Workshops were thoroughly enjoyed by all ages, very positive responses from everyone"
P. Byles, Dr Triplett's C.E. Primary School
"The steel pan is a perfect instrument, as the basic skills are easy to learn and playing the instrument does not require any previous musical experience. It is possible for a group with any level of musical experience to accomplish a simple melody within a short period of time."
Our all day workshops generally include a performance during morning assemblies followed by workshops with 10-15 pupils per session. Workshops start from 15-minutes up to 1-hour per session, this is dependent on the total amount of participants. The day includes information about the history of steelpans, an interactive performance and pupils will learn a melody/rhythmic tune on the steelpans.
Our Full Package includes Steel pan, African drumming and tamboo bamboo workshops. The origin of steelpan begins with the African Drums in the 18th Century, which lead to the tamboo bamboo bands and then the formation of the steeldrums in the 1930's. Pupils will have the full experience of the steelpan instrument.
​
​
OUTCOMES
- Learn about the history of steel pans from the Caribbean
- Learn a piece of music using the steel pans
- Enhance rhythmic and improvisational skills
- Develop listening skills
- Develop ability to work in an ensembles
- Develop confidence through performing to an audience (optional)
2 HOUR STEE LPAN WORKSHOP
60-80 pupils
Interactive steelband performance assembly
Workshops with 15-30 pupils per session
Starting from £340
​
ALL DAY STEEL PAN WORKSHOP
Up to 270 pupils
20-minutes interactive performance assembly
Workshops with 15-30 pupils per session
Starting from £540
​
ALL DAY STEELPAN / AFRICAN DRUMS / TAMBOO BAMBOO WORKSHOPS
Up to 270 pupils
2/3 Workshops per pupil
20-minutes interactive performance assembly and all day Workshops with 15-30 pupils per session
starting from £720
Performance & assemblies for schools
Steel pans assemblies are a great way to teach pupils of all ages about the only new instrument to be invented in the last century which originates from the twin islands of Trinidad & Tobago. We present a small steel orchestra for pupils to learn about the history and range of the steelband orchestra and perform popular songs and tradition Caribbean music. Trio to 5-piece steelbands include a African drums and tamboo bamboo presentation, which are the origins of the steel drum!
Steelband performances are also great for summer fairs and other school events providing a vibrant atmosphere performing calypso, reggae and popular tracks.
Steelbands perform a 90-minute set or two 45-minute sets within 3-hours from the musician's start time. For longer durations prices will increase.
Soloist starting from £320
Duet starting from £380
Trio starting from £460
4-piece sarting from £580
5-piece sarting from £690
"A fantastic 2 days. All facilitators worked very hard over the two days and had an excellent rapport with the pupils aged 4-15. Our pupils engaged well and enjoyed the experience of being able to play a short piece by the end of the workshops. I highly recommend them"
AnnMcleish Waverley School
​
"It was amazing! The kids really enjoyed themselves and are already asking when they can do it again. All the guys were great and managed to get all the kids to participate, engage fully and actually make some pleasant sounds!"
Vicki Foreman, Lark Hall Primary
​​
​
​
" We carried out a pupil survey and 98% of the children loved the whole experience and would like you to come back"
Joe Parkes, Camrose Primary School