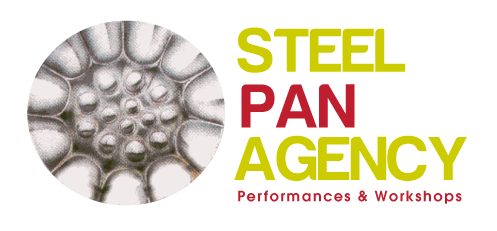 Caribbean Rhythms: Steelbands Transform Weddings, Schools, Private Functions, Corporate Events, Community Groups, Charities and Parties with Calypso, Reggae and Popular Music.
Enhance your wedding atmosphere with our enchanting melodies. From delightful background music during drinks receptions and ceremonies to lively entertainment for the night, our performances are tailored to make your wedding truly memorable.
​
​
​
​
"Our wedding wouldn't have been the same without the Steel Pan Agency. Their music added a touch of magic to our special day, creating memories that will last a lifetime"
David Smith, Newlywed
Corporate &




Private events
Set the perfect tone for your corporate and private events with our captivating performances. Welcoming guests as they arrive, our versatile music adds elegance to work functions, parties, open days and more. From serene background melodies to energetic entertainment, we create a memorable ambiance for every occasion.
​
​
​
"The Steel Pan Agency brought an incredible atmosphere to our corporate event. Their performance was a highlight, captivating everyone with their vibrant melodies. It was a pleasure working with them!"
Sarah Johnson, Event Organiser
Infuse your community events with vibrant energy through our dynamic performances. From care homes to fundraisers, street parties to school fairs, we create an engaging musical atmosphere. With a versatile repertoire, we contribute to the heartwarming moments that unite and uplift diverse communities.
​
​
​
​
"We invited the Steel Pan Agency to our local street party and they turned it into a Caribbean carnival! Their music got everyone dancing and added an unforgettable energy."
Emily Williams, Community Event Coordinator
Captivating Vibes: Perfect Blend of Atmosphere and Music
Our steelbands offer the flexibility of either a 90-minute set or two 45-minute sets, all within a 3-hour timeframe from the musician's start time. We're also adaptable to extended durations and our prices are adjusted accordingly. Your unique event needs are our top priority. Please note that the prices provided below are for standard performance durations and may vary based on factors such as location, performance duration and specific requirements. Feel free to reach out to us to receive a personalised quote tailored to the specific needs of your event. Our commitment lies in delivering outstanding musical experiences that align seamlessly with the essence of your occasion.
"Soloist was very good value for money and set the right atmosphere really well at my dads birthday. Everyone commented on how nice the music made the day. Thank you so much and can't wait to hear you again at my wedding next year"
Jonathan Mint, from Kent
"Steel Pan Agency's duet performance added a unique and exceptional touch to our anniversary party. The music was a hit among guests of all ages."
Michael and Susan Clark, from London
"Steel Pan Agency's trio band made our wedding day truly unforgettable. The music during the drinks reception was the perfect backdrop to our special moments. Thank you for creating lasting memories"
James and Emma Turner, from Birmingham
"The steelbands performance at our charity gala elevated the event to a whole new level. The music added sophistication and elegance to the evening."
Sarah Mitchell, from London
"The steelband's performance at our party was a hit. The music added a groovy and celebratory atmosphere that perfectly matched the joyful occasion"
Jake Roberts,, from Sheffield
"The full steelband orchestra at our summer fair transported everyone to the Caribbean. The vibrant rhythms and melodies had the whole community dancing and celebrating"
Rebecca Green, from Brighton