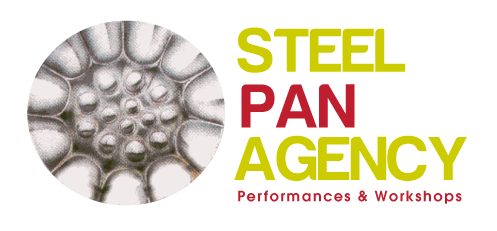 "Let me say how gratful we are to you for playing so skillfully at our celebration. We are getting good feedback and would book you again whenever we have something special. Thanks so much for your sound"
Emeline Reid, from Lewisham
​
​
​"Thank you for playing for us on Friday evening. You're playing was wonderful, we could have been on some tropical isle! Your music certainly made the evening, again thank you and I shall be passing on your details"
Becky Eliis, from Barnes
​
"The children were inspired. Your musicians were creative, gave the children confidence and were very entertaining"
Mrs H Lonergan, from Our Lady of Visitation
Services That Resonate: Steel Pan Agency's Melodic Offerings
STEELBANDS
Our seasoned musicians, with 5-10 plus years of major event experience, are the heart of Steel Pan Agency. We collaborate with small businesses, local charities, schools and iconic clients such as British Airways, John Lewis, Warner Bros. YouTube, Sky Productions and Channel 4. From Lord's Cricket Ground to Silverstone Grand Prix, we've left our melodic mark. Our steelband performances effortlessly enrich weddings, schools, corporate functions, community events and parties. Providing either background ambiance or the main entertainment, our repertoire dances through Calypso, Reggae and Popular Music.
​
WORKSHOPS
Unforgettable and original, our workshops let all ages embrace the steel pan's enchantment. We delve into Djembe Drumming and Tamboo Bamboo too, ideal for corporate team bonding, hen parties, birthdays and beyond. Over 1,000 UK schools have experienced our steel pan workshops, an engaging gateway to Trinidad & Tobago's distinctive creation. With proven therapeutic benefits for various conditions, including mental health, our workshops offer an interactive, sensory journey.
​
SCHOOLS & MUSIC HUBS
Bringing vibrant music education to schools, we offer one-day workshops, assemblies, term projects, teacher training and bespoke programs. Our qualified tutors hold enhanced DBS checks, empowering students to flourish as confident musicians. Our steel pan tutors, boasting 5 years or more of experience, uphold excellence and satisfaction, delivering a harmonious educational experience.
TUTORS (£40/£50 per hour)
Our esteemed tutors, each with over 5 years of experience, are the backbone of our agency. Through their expertise, they nurture budding steel pan players, fostering musical confidence and growth. We maintain close ties with schools to ensure utmost satisfaction with our tutoring service.
​
OTHER SERVICES
Beyond performances and workshops, we offer a range of services, including buying/renting steel pans, steel pan accessories and expert tuning and repairs.
​
TRAVEL
Our melodious journey spans across Home Counties, West Midlands, East Midlands, East, Greater London, South East & South West.
​
​
Discover the magic of music with Steel Pan Agency – where passion, expertise and creativity intertwine to create extraordinary experiences.