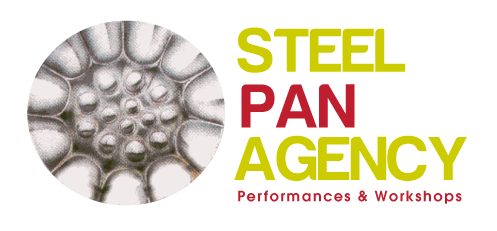 "Cubs and our Scouts had a BRILLIANT evening learning how to play the steel pans with the Steel Pan Pan and their classical piece was fantastic"
Hayes Scout Group
​
​
"I really cannot recommend these workshops enough. I booked a session for an event day for work and a year later for my sisters hen do. It's hard to say who enjoyed it more both groups still talk about it now. It truly is unbelievable what we were all able to accomplish in such a short space of time and the development we achieved in the workshop is mind blowing, even my mum did it, amazing, thanks again"
Helen Stephenson, from Mitcha
This is an original, unique and unforgettable experience for people of all ages to experience playing the steel pan!





The steel pan is a perfect instrument, as the basic skills are

easy to learn and playing the instrument does not require

any previous musical experience. It is possible for a group

with any level of musical experience to accomplish a simple

melody within a short period of time.
Groups learn a rhythmic piece of music in our workshops and about the history and range of steelbands. Our Steelpan Workshops are suitable for many occasions. We regularly do workshops at corporate events, community events and private functions. For an even more authentic experience in the world of percussion we offer optional African Drumming and Tamboo Bamboo Workshops enjoying more than one workshop on the day. Children and adults can participate together and workshops are suitable from ages 5 plus and for all abilities. Private bookings with family and friends often book local community halls, school halls, clubs, gardens and local parks. You will need a space for 4-hours.
​
​
Steel pan Parties
For up to 60 people
For up to 30 for kids parties
Most popular is our Hen Parties and Birthdays, this is a fun and creative way to enjoy the day with a group of friends. We do workshops at Dinner Parties and BBQ's, after watching a steelband perform most people want to have a try! With a few extra steelpans set up in the garden children and adults have a casual workshop adding colour to the day. Steelpan Workshop Parties are a great way to enjoy a fun day out and for celebrating with others. Achieving credible music in a short space of time with no musical experience required.
​
Community Organisations and Charities
For up to 60 people
Workshops for community groups crosses a wide spectrum. Types of community places we have visited so far include Care homes, scout groups, senior citizen organisations, hospitals, mental health institutes, Women's Institutes, youth clubs, prisons and I am certain we have missed a few! We are a hit with community groups and charities providing a fun and creative activity for all types of celebrations and educational activities. The reputation that we have built with community groups and charities is an honour and it is these groups that inspired us to form our ongoing special offer services to allow thousands of people access to our services over the years.
​
Special Needs and Learning Difficulties
For up to 60 people
Our organisation has been visiting community groups and charities for 9 years. We regularly work with SEN Groups and adults with special needs and learning difficulties. Steel Pan Agency Manager has delivered a lecture about these workshops at the most recent Steelpan Conference. The level of engagement with these users groups is very reliable. Creative techniques have been developed through, sensory of touch, vibrations of sound and providing longer steelpan mallets for those with hand disabilities. Our workshops are accessible for wheelchair users.
​
These sessions although structured they are extremely flexible. We allow for free play where necessary, mixed durations of music and workshops and key workers are mostly encouraged to participate.
Corporate Team Bonding
For up to 60 people
Corporate organisations often have workshops as a team bonding activity or part of a themed event and celebration. These workshops create a real buzz with work colleagues. Together they produce very impressive sounds and this instrument is accessible to people with any level of musical experience. In a steelband nobody can stand alone as every individual matters when playing each note and this lends itself to be a real team building and bonding exercise.
​
Drop-In workshop at events
For up to 240 people
Our drop in workshops are found at carnivals, summer fairs, corporate functions, fundraisers, community events, festivals, museums event days etc. Performances are throughout the event or structured as part of your timetable. Groups of people (all inclusive) take part in 10-15 minute workshops. Some events have people sign up for activities or drop-in sessions for high pace functions. These workshops add a unique experience for most participants and families can participate together.
​
PRICES
2 Hour Performance & Steelpan Workshop
Starting from £340
All day workshops starting from £540
​
2 Hour Performance Steel Pan & African Drumming Workshops
Starting from £460
All day workshops starting from £720
​